In recent years, new technologies applicable to the smart packaging sector have been considerably developed that aim at sustainability and the creation of new, more minimalist packs and with alternative materials. A large number of companies have entered the alternative and intelligent packaging market, to the point that the sector would no longer be considered niche. Through an investigation led with our platform in collaboration with Pick&Pack, we looked for the most actual trends in packaging.
Sustainable sophistication: packaging & biomaterials
Discover some of the leading companies in the sustainable packaging and biomaterials production sector that are coupling sustainability principle with high-end design. Today's awareness has made the world more aware of environmental challenges, prioritising the creation of viable alternatives with biomaterials and moving away from conventional packaging.
Notpla, a startup dedicated to producing compostable packaging solutions from seaweed and other plants. Founded in 2014, this company has managed to attract the attention of the sustainable packaging market thanks to its innovative bioplastic production process. Recently,Notpla has announced the launch of his new project called Notpla Paper, in collaboration with the non-profit organization Canopy, whose objective is to protect forests and animal species threatened by climate change.
LivingPackets wants to improve the world by eliminating packaging waste generated by e-commerce. They have created THE BOX, a sustainable, safe and intelligent packaging that can be reused up to 1000 times before being recycled. Their goal is to save trees and protect the oceans from one-way plastic.
Pack2Earth is an I+D+i packaging company that has developed home compostable packaging materials to reduce the use of petroleum-based plastics and other pollutants. Its products are made from vegetable matter and can be disposed of with other organic waste.

Interactive packaging & shipping
Interactive packaging and shipping represent an evolution in the way products are presented, protected and delivered. 

Read on to learn about innovative companies looking for solutions that go beyond the mere functionality of packaging to engage the consumer, providing a unique experience.
Keep-it Technologies developed a time and temperature indicator that constantly monitors the temperature over time, showing the actual remaining shelf life of a product. The Keep-it indicator is fixed on the product at the last stage of production, and the band shows whether a food product is fresh or not, when it is below 0 it means it is not edible. Keep-it! helps to avoid unnecessary food waste and protect the environment.
Aardex Group has created the Schreiner MediPharm Smart Blister Pack, a new system that provides a smart blister wallet with a mobile adherence application. This application allows for reminder or medication history options, ensuring the correct intake of medical treatment as well as the avoidance of confusion or forgetfulness.
Limeloop has developed an intelligent shipping platform that uses reusable packaging and sensors to track and manage the shipment of products from the point of order to the return. The platform provides retailers with an effective tool to communicate with their customers and make informed decisions about sustainability and the supply chain.
Markers for identification & digitally enhanced insights
The QR codes on product packaging is an effective marketing tool because scanning is quick and easy and leads the customer directly to your information. Whether your goal is to receive customer reviews, promote your social networks or facilitate access to customer support, simply adding a QR code that guides to your specific information will increase the value of your package.
Using our research tool, among the most innovative startups in the sector we could find:
Scantrust, which started as a pioneer of anti-counterfeiting technology for QR codes in 2013. Since then, they have grown into a complete set of cloud-based, connected packaging solutions for a wide variety of use cases and industries, including industrial goods, consumer goods, packaged consumption, wines, and beverages.
Varcode, ideators of Smart Tag technology. These are innovative temperature indicator barcodes and labels that provide dynamic temperature updates to cold chain logistics professionals at any point along the way: the tags provide a cumulative temperature-time exposure over a variety of time intervals and can tell when the shipment fell below an acceptable temperature range during a predetermined period of time. The result is a barcode that can tell a story every time it's scanned.
SpeechCode, whose generator software transforms product information into a code that is printed in the label or package. Customers can scan the code through their app and check the info as text and/or in audio format, even in lack of Internet access.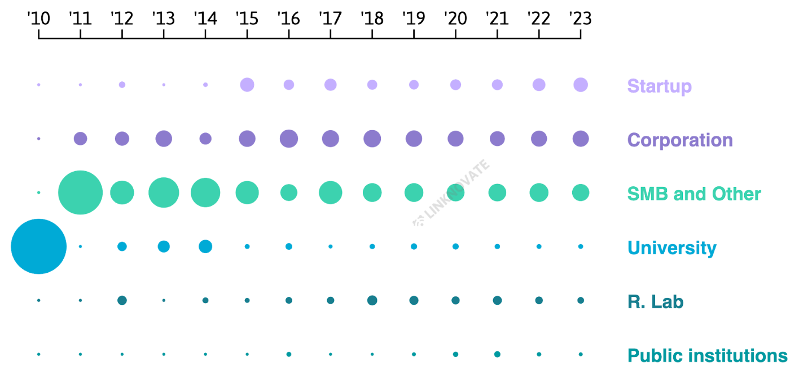 AR/VR Applications in packaging
With the increasing use of mobile devices and the popularity of augmented reality (AR) and virtual reality (VR), packaging has become an ideal channel to implement these technologies. The AR in the packaging allows customers to interact with the products and obtain valuable information, thus improving the shopping experience and guaranteeing the quality of the products.
AR and VR applications on packaging turned out to be a useful channel for carrying out marketing actions, making it possible to reach consumers in an innovative way without increasing production costs, generating higher rates of interaction and brand recall. Among the companies that provide similar solutions we can highlight:
Smartech Group offers solutions through the creation of AR apps that improve the user experience in sectors such as tourism, packaging, food or construction, among many others. They have worked with several companies, such as with the elaboration of augmented reality in the packaging of Granini and with the AR application for bottle recognition fro Mahou.
Zappar Creative Studio: providers of an augmented reality platform that has been in business for over 10 years, Zappar has worked with some of the world's biggest brands to create immersive AR experiences. An example of their work is the packaging of Bombay, where they included an animation on the bottle label.
Blippar creates and develops AR campaign strategies that achieve real and tangible user engagement. An example of this is the case of the packaging de Kellogg's, where Kellogg's cereal box turned into a tropical island and unlocked fun and educational games to play.

The different evolution of packaging is providing more and more environmentally efficient solutions from the use of biomaterials generating less and less waste, through interactive packaging as an eye-catching alternative for the user as well as the use of QR codes and augmented or virtual reality, providing better experiences and perfecting more and more the durability and efficiency of packaging.